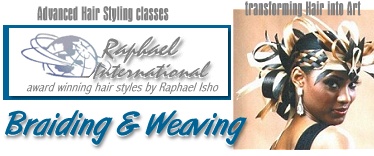 Advanced hair braiding and basket weaving beauty salon techniques
The ability to teach you how to blend art into your hair designs sets the Raphael International instructional series of step by step how to now on DVDS . Vol. # 5 "Braiding & Basket Weaving" covers the newest trend in hair styling. Mixing Hair with fashion and Art ,Raphael goes beyond traditional styling techniques by introducing "basket weaving" as a new styling technique that has won him international stylist competition and world Champion awards. A creative direction in advanced hair designing, that goes beyond simple imagination since these styles are made to get noticed in fashion and trade shows. Exploring new dimensions in hair styling is what keeps Raphael's interest and attracts a worldwide audience to his live demonstrations at hair styling competitions. This advance styling instructional DVD is on sale now for only $49.95...each was $59.95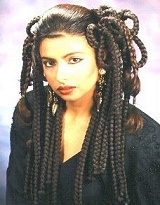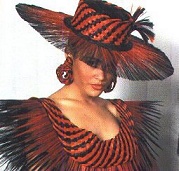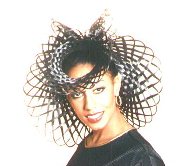 Raphael takes the time is this video training series " Basket Weaving & braiding" Vol. 5 to show ageless weaving secrets. Hair weaving and braiding is an advanced design technique often overlooked at most beautician schools. Get all the video series ( 6 instructional tapes) and receive a free salon photo album with hundreds of photos of classic styles and these show stoppers.


Video Title

code

Description

Pricing

"Fantasy"
Vol.1 thru 4
Start to finish- How to do fantasy hair styles and build various "Fantasy Hair pieces" 4 part series
$39.95 ea.
"Basket Weaving and Braiding"
Vol.5
A Creative new direction in advanced hair designing and fashion statements. Also covers making head bands, accessories, and originals.
$49.95 ea.
"Evening Style"
Vol.6
Master an "After five" look that will make you a star where ever you go. Explores a look for Weddings and Special events requiring a new look !
$45.00 ea.
Limited special
full set
series 1-6

Get all 6 & save

$195.00 for full set of 6
Yes -hair braiding and "basket weaving " use the same techniques. Weaving skills are easily learned and applied to hair pieces, hats, accessories. Raphael has even done complete outfits using nothing but human hair as a woven fabric. Raphael can teach you how to designed "one of a kind" originals that are the envy of all that see them.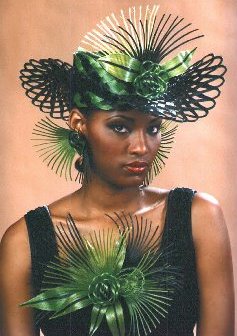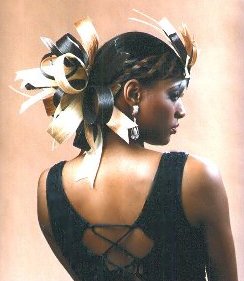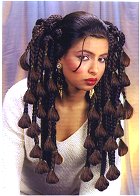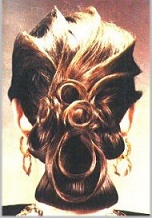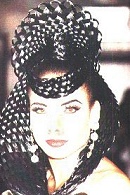 Volume 5. "Basket Weaving & braiding " in Hair styles - $ 49 ea.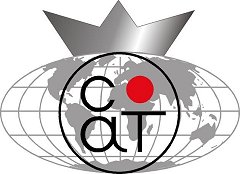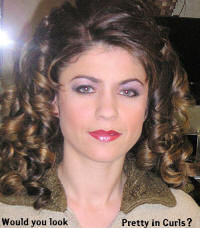 International "Creative Artistic Technique" Award goes to.....Raphael
See the products page for special combo offers. Also get the information on Raphaels' one-on-one "hands on" seminar classes at his new hair academy. Learn from master hair designers, who can teach you how too leverage this skill, for all races and hair types. Intermediate and advanced classes also cover more conventional hair cutting -Streaking & dyeing as well as hair finishing.
Take a look at all of Raphael International hair style categories below.
Exciting new styles and directions..in our redesigned -expanded web site. Raphael International is taking you into the 21st century and future of hair creations... Take a look & discover a new you from these pages!

Fantasy styles for a dramatic look..
Evening Avant Garde' Styles for parties & weddings and formal gatherings.
"After Five PM" elegance for special nights out for Movie & music stare and runway moders!
Blending Fashion-Styling and Art into "Show stoppers" that put you on the modeling "Runway" .
Basket Weaving and fantasy hair braiding.
Step by step instructional video tapes on creating "Fantasy -After5 - Basket "Weaving" hair pieces and formal Hair Styles for begginner and advanced hair styling students. These show Raphael Isho in action doing advanced styling techniques that have won him worldwide acclaim.
Raphael International .. is hiring stylists, booth operators or seeking nail, makeup and pedicure specialists for our Salon.